Like A Virgin: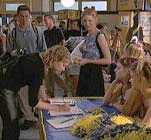 On the way home from his summer internship in Philadelphia, Dawson has an encounter with an alluring and sexy young woman (Eve). He falls asleep after baring his soul to her, and when he wakes she is gone. Autumn also finds Jack still living at Grams' house with Jen, an arrangement now as comfy as an old marriage and in an act of rebellion against conformity, Jen tries out for the cheerleading squad with great ironic flair. The school's new leader, Principal Green, demonstrates at the first assembly that he has an unorthodox approach. Dawson desperately seeks to avoid Joey, who has also changed the summer - she wants Dawson back. Eve's agenda soon becomes clear - to change Dawson's life by ending his virginity. Her efforts to do this in an unlikely place results in Dawson and Eve crashing his father's prized antique motorboat. Pacey comes up with a wild plan to throw a party complete with strippers, courtesy of Eve, to earn the money to fix the boat, but the boisterous event spirals out of control in more ways than might be expected, resulting in even more changes for our friends.
Homecoming: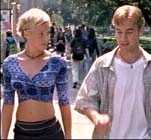 Eve tells Dawson that she is a senior at Capeside High and challenges him to get over Joey…her way. Unsure of Eve's next move, Dawson prepares for that special moment as he puts his filmmaking skills to use for the school's football team for homecoming. Meanwhile, Pacey and Joey go to bring Andie home, only to find her with another man in her room. Although it was innocent situation, Andie avoids being completely alone with Pacey, which he doesn't understand. Jack joins the football team and with the new quarterback, Henry Parker, becomes the star wide receiver. Jen, as the unlikely and reluctant head cheerleader, leads the homecoming pep rally for Capeside High.
None Of The Above:
Not one to give up easily, Eve continues to work on making Dawson into a real man. When she fails to consummate her role as temptress on that front, Eve continues to live up to her name by presenting Dawson with something she knows will provide an irresistible temptation to him and all his junior year friends. As Principal Green whips them all into test prep mode for the PSAT, Eve delivers into Dawson's hands the ultimate weapon - a completed copy of the current year's PSAT test. No sooner has Dawson shared this mind boggling news with Pacey, Joey, Jen, Jack and Andie, the test mysteriously vanishes when all the kids are suddenly called outside for a fire drill. No one admits to taking it, and Dawson is consumed by the need to find out which of his friends could have suffered such a grievous moral lapse. Eve relishes the turmoil she has thrown the group into, and plants the seed of suspicion against the always-vulnerable Pacey, who is still very much reeling from his breakup with Andie. Caught in a terrible test of friendship and faith, Dawson and Pacey may now lose each other as well as their loves.
Home Movies:

Dawson gets his first break to film a news story about Jack becoming a gay high school football player, but Mitch, who as the new football coach prepares for homecoming game, has strong objections. Determined, Dawson makes the film despite the fact that it could cost Capeside its first football victory and Mitch his career. Meanwhile, mischievous Pacey persuades Joey to cut class, but Principal Green catches them. Their punishment is to show school spirit by being the mascot, the Capeside Mule, at the homecoming game. Andie grapples with her guilty conscience over cheating on the PSATs, especially when Principal Green wants to see her about a confidential matter. And, Jen quits cheerleading after finding out that her squad auctioned a kiss from her at homecoming for $500. However, another surprise awaits her at the Capeside homecoming game.
Indian Summer:

Dawson steps up his efforts to find out who Eve really is, but the mystery only deepens. None of the stories Eve has told about herself turn out to be true, and after following her Dawson discovers that she's been squatting on someone's yacht. An old photo of a lovely blonde that he finds with her clothes catches his interest, however. Meanwhile, Joey is horrified when she finds out that her boss Rob has a date with the vulnerable Andie, who seems quite taken with him. She follows them on their date to the movies and tries without success to talk sense into Andie only to find herself fired by Rob the next day. Jack meets with equal failure when he tries to help the hapless and hopelessly-in-love Henry get a date with Jen which only serves to infuriate her. Dawson ultimately confronts Eve about the photo and learns that all this time she has in fact been in search of the mother who gave her up long ago and lived somewhere on the northeastern seaboard, after which she bids him goodbye. Not long after, however, Dawson catches sight of something in Jen's house that sends his mind reeling.
Secrets And Lies: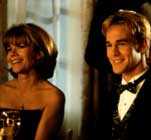 Dawson's mom comes home for the annual Capeside Homecoming Queen Gala. In an ironic twist, Jen, as the most recently crowned Homecoming Queen, must host this event with the oldest living Homecoming Queen, who's now eighty years old. In charge of the entertainment for Capeside's most formal event, Jen arranges for the most outrageous, Jen-style. At the gala, Dawson finds out the real reason why his mother is home, and struggles with his conscience over whether to tell Jen what he knows (that Eve is her half-sister). Meanwhile, Joey and Pacey rescue Andie, who claims tearfully that Rob assaulted her.
Escape From Witch Island:

Dawson persuades Principal Green to let him film a documentary on Capeside's historical witch trial instead of doing a report on "The Crucible." Dawson and his film crew of Joey, Jen and Pacey, venture to haunted Witch Island to film the legend of thirteen witches killed in a deadly fire. With heavy "Blair Witch" overtones, the crew is warned not stay past sundown, but becomes marooned as night falls. Dawson and Joey are caught up in the mystery of one witch, Mary Waldeck. Meanwhile, Jen and Pacey dabble in a little "magic" of their own inspired by a book of spells. Stuck waiting for the morning ferry, the four spend the night in a old church only to be awakened by screams, bells and a violent storm that is suddenly replaced by flames. They flee, with Dawson's camera still running. Back on the mainland, Andie is appointed head of the student disciplinary committee and relishes her authority while she sets out to enforce the school's rules with a vengeance.
Guess Who's Coming To Dinner:
Every year Grams holds a potluck Thanksgiving Feast, opening her home to those who don't want to spend the holiday alone. This year everyone shows up including a surprise guest, Jen's estranged mother, Helen. Tensions run high as Jen deals with her rage toward her mother for sending her away to Capeside. Dawson confronts Helen with the secret about Eve. Andie and Pacey are in the same room for the first time since their last fight. Then when Dawson thinks his mother is home for good and they are a family again, his parents tell him that their divorce is final. By the end of the evening, all six kids gravitate to each other amidst their turmoil.
Four To Tango: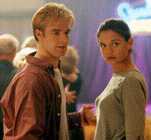 While Pacey and Jen try unsuccessfully to ignite the flames of passion that sparked between them on Witch Island, Jack unexpectedly finds a romantic possibility on the internet. Things heat up when Dawson discovers a condom in his bedroom that Pacey seems to have left behind after an unannounced visit. This leads Dawson to jealously suspect that Pacey has something going on with Joey after he follows the pair to a ballroom dancing class. In fact, Joey, is simply trying to win college scholarship money from the dasnce school, and has drafted Pacey as her unwilling partner in exchange for math tutorials. Ultimately, each of these friends comes to learn that true passion can't be forced, any more than learning to Tango can be a free ride to college.
Breif Encounters Of A Close Kind: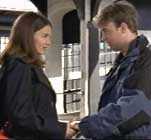 Dawson, Joey, Andie and Jack get a taste of life outside Capeside when they spend a weekend at a prestigious Ivy League university in Boston. Dawson's "Escape From Witch Island" is in the student film festival on campus, and he meets tough critics as well as the next female Tarantino. In a case of mistaken gender identity, Joey ends up with a male roommate who gives her a bitter taste of the college lifestyle. In turn, she gives him a healthy dose of life outside textbooks. Jack nervously checks out the Boston nightlife on his own. Ambitious Andie tries to get a jump on admissions, but encounters an enlightening obstacle.
Barefoot At Capefest: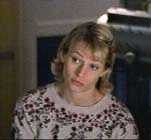 Dawson finds out there's a new filmmaker in town when he goes to use the school's camera - and Nikki has beaten him to it. Is Capeside big enough for two aspiring filmmakers? Meanwhile Andie decides that the best way to get over Pacey is to get busy, and thus becomes the assistant director for the school play. Unfortunately, the incompetent teacher/director persuades Pacey to be the lead. Jack convinces Jen to camp out at Capefest since Ethan will be there. During a night of discoveries, Jack learns that dating isn't easy, gay or not, while Jen observes yet another side of Henry and becomes intrigued.
A Weekend In The Country: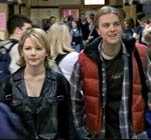 As the Potter B&B prepares to open its doors, Joey and Bessie find themselves in a precarious financial position. Without Joey's knowledge Bessie has mortgaged the house and, if the inn doesn't succeed, they stand to lose their family home. In the face of this crisis, Joey's friends pull together to help her with the business. Unaware that the B&B is nowhere close to being ready for guests, Pacey invites finicky and influential travel writer Fred Fricke to stay and write a review. Chaos ensues when the bathroom floods, the furnace fizzles and none of Joey's efforts can please the cranky scribe. And, because the B&B needs to look busy, Joey's friends act as faux guests. During the course of the friends' "weekend in the country," Jen faces her fears about her past and finally decides to go out with Henry; under pressure from Andie, Jack reconsiders his move away from home; Dawson struggles with his parents' post-divorce friendship; and Pacey finds himself falling further for Joey.
Northern Lights: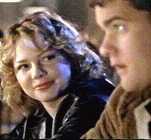 It's the eve of Pacey's debut as the lead in "Barefoot In the Park," and he's disappointed that Joey, who's been helping him run lines, will miss his gig for a date with her college friend A.J. She explains that, as this is a date to view the Northern Lights, it can't be rescheduled. The flustered Pacey then proceeds to flub all his lines in dress rehearsal, panicking Andie, who abruptly has had to take over as director when the teacher falls ill. Meanwhile, a disillusioned Dawson drops film class, much to Nikki's dismay. And Jen and Henry finally have a face-off date at Pacey's play, during which Henry forces Jen to be truly honest. Ultimately, Pacey pulls off an acting triumph as Joey navigates her way around her evening with A.J. with an equal mixture of wariness and excitement.
The Valentine's Day Massacre: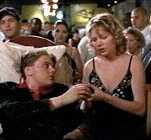 It's Valentine's Day and Capeside High is bracing itself for the party of the year - a Bacchanalian anti-Valentine's bash hosted by bad boy Matt Caufield. Pacey convinces Dawson that they must be there, while Joey insists that the whole vibe just isn't her style. Also at the party is Jack's one-time girlfriend Kate, who is visiting Capeside in hopes of recovering from the blow of her recent break-up - her boyfriend announced that he was gay. Jack wrestles with his conscience over whether to tell her about his own homosexuality, while Dawson puts his conscience on ice in order to hook up with the needy Kate. Meanwhile, Henry scrapes up cash for his big date with Jen by persuading the blood bank to accept yet another pint - only 48 hours after his last visit. Jen, who has been hoping for a storybook evening, has to contend with a dating disaster when Henry's vein drain catches up with him.
Crime And Punishment: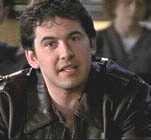 Joey is proud to have finished her mural for the school and Pacey is the only one to get an advance peak at her work. At the official unveiling, however, jaws drop along with the cloth that reveals that in the night, someone has horribly defaced and ruined Joey's painting. Dawson and Pacey immediately want to come to her rescue and find the culprit, but Joey's far too dispirited to care. While Dawson then takes the tack of trying to get Joey to start over on her work, Pacey determines to nail the offender. Meanwhile, Andie finally comes to terms with the fact that she's been overly harsh in her role as disciplinary committee head - and realizes that it's because of the guilt she carries over her own terrible and undisclosed crime -cheating on the PSAT. After confessing to a shocked Jack, she decides that she's got to come clean. As Pacey zeros in on the rich and smug Matt Caulfield as the perpetrator, Joey is confused by his heroic efforts on her behalf, and it takes more than the restoration of justice to sort out the changing feelings between these friends.
To Green, With Love: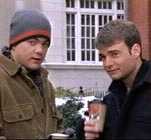 Joey relies on the support of Pacey and A.J. to rally the students in protest against the school superintendent after he forces Principal Green to resign for expelling the student who destroyed Joey's mural. Meanwhile, Dawson and Gail both go back to their respective places in back and in front of the camera to produce a piece about the ongoing school protest which ruffles more than a few feathers of the school board hierarchy.
Cinderella Story: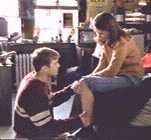 When Joey turns to Pacey for rescuing after she flees Boston halfway through her visit with A.J., the two old friends may finally confront their growing feelings for each other. Meanwhile, to avoid suspension, Pacey becomes a mentor to a young boy and must contend with a little version of himself with a big attitude; and behind Gail's back, Dawson asks Mitch to help with the opening of her new restaurant.
Neverland: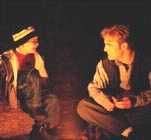 Pacey hopes taking Dawson to their favorite childhood camping spot will help ease the pain when he tells Dawson about his new feelings for Joey. Meanwhile, Joey deals with the emotional fallout from her kiss with Pacey by spending girls' night out with Jen and Andie, but to Jen's surprise they stumble upon a birthday party for Henry that she wasn't invited to.
Stolen Kisses: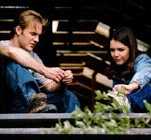 Dawson invites Joey, Andie and Pacey to spend Spring Break in the mountains at his aunt's home, but the trip is filled with tension as Joey and Pacey continue to battle about their feelings for each other and Andie becomes intrigued with the gang's childhood friend Will who is visiting. Meanwhile, back in town, Jen becomes surprisingly territorial when another woman flirts with Henry. Pacey's friend Will(young Americans spin off) is introduced.
The Longest Day: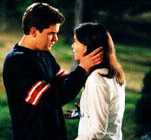 In a story that replays the same day's activities from three different perspectives (as in the 1999 movie "Go"), Joey and Pacey vacillate on the ways to tell Dawson about their feelings for each other. But when the truth does come out, Dawson's reaction is the one they hoped they wouldn't get. Meanwhile, Andie, who thought she was over Pacey enough to date, accepts a date with Capeside visitor Will, but their first date is ruined when she also learns about Joey and Pacey.
Show Me Love: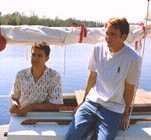 As Capeside prepares for the annual spring regatta, Dawson and Pacey compete for the winning trophy, only Joey is tired of feeling like the prize. Meanwhile, after many weeks of mixed messages, Gale makes the first move with Mitch, and after Jen finally forgives Henry for his one-track mind, he gives Jen the most romantic night of her life.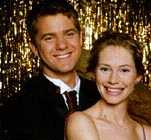 The Anti-prom: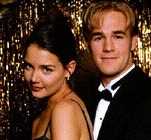 Dawson, Joey and Andie prepare their own unique prom when they learn that the committee has scrutinized Jack's selected date. Dawson, who has invited Joey to be his date, uses the special evening to try to win her back and make Pacey jealous; Andie persuades Pacey to be her escort but her evening ends by consoling him about his love life uncertainties; Jen becomes outraged with Henry when he reveals he is leaving Capeside for the summer; and Gail and Mitch celebrate their new found romance.
True Love: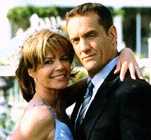 After an emotional day filled with love, tears and wedding vows, Joey ultimately much choose between her love for Dawson and her new feelings for Pacey. Across town, Grams talks about love and regret with Jen, while Jack and Andie make a decision to drive all night so that Jen can see Henry one last time.